The Vanishing of Carolyn Wells: Investigations into a Forgotten Mystery Author (PostHill Press, 2024)
The Vanishing of Carolyn Wells is the first biography of one of the "lost ladies" of detective fiction who wrote more than eighty mysteries and hundreds of other works between the 1890s and the 1940s.
Carolyn Wells (1862–1942) excelled at writing country house and locked-room mysteries for a decade before Agatha Christie entered the scene. In the 1920s, when she was churning out three or more books annually, she was dubbed "about the biggest thing in mystery novels in the US."
On top of that, Wells wielded her pen in just about every literary genre, producing several immensely popular children's books and young adult novels; beloved anthologies; and countless stories, prose, and poetry for magazines such as Thrilling Detective, Life, The Saturday Evening Post, Harper's, and The New Yorker. All told, Wells wrote over 180 books. Some were adapted into silent films, and some became bestsellers. Yet a hundred years later, she has been all but erased from literary history. Why? How?
This investigation takes us on a journey to Rahway, New Jersey, where Wells was born and is buried; to New York City's Upper West Side, where she spent her final twenty-five years; to the Library of Congress, where Carolyn's world-class collection of rare books now resides; and to many other public and private collections where exciting discoveries unfolded.
Part biography and part sleuthing narrative, The Vanishing of Carolyn Wells recovers the life and work of a brilliant writer who was considered one of the funniest, most talented women of her time.
"The Vanishing of Carolyn Wells is a remarkably compelling narrative about this astonishingly prolific author who had great success in numerous genres. While I have never been a great fan of Ms. Wells' mystery novels, the sprightly and perceptive prose of Rebecca Rego Barry's worthwhile study has convinced me to give her another try."  —Otto Penzler, The Mysterious Bookshop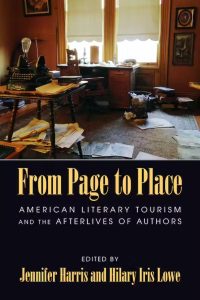 My chapter on the literary Warner Sisters appeared in From Page to Place: American Literary Tourism and the Afterlives of American Authors (University of Massachusetts Press, 2017).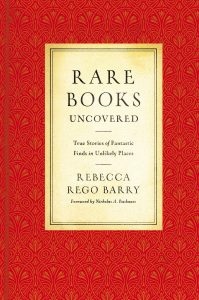 Rare Books Uncovered: True Stories of Fantastic Finds in Unlikely Places was published by Quarto in 2015 (hardcover) and 2018 (paperback)
"A welcome gift for a passionate reader or collector." – Michael Dirda, The Washington Post
"Novice and veteran bibliophiles alike will find this title captivating." *Starred Review* Library Journal
"Bibliophiles rejoice! This book about rare book finds is a great find." – Maine Antique Digest